Hari Sabtu Tanggal 6 September 2014 saya kembali masuk kampus membawakan Kuliah Tamu  dan kali ini yang mengundang adalah Himpunan Mahasiswa Geologi (HMG) FT-UH. Kuliah Tamu ini bertemakan Perencanaan Karir Efektif bagi Mahasiswa dan Lulusan baru. Materinya hampir sama secara substansial dengan materi yang pernah dipresentasekan di depan mahasiswa Sipil FT-UH Desember tahun lalu. Namun diskusi yang dibangun selama kuliah adalah  mahasiswa Geologi setelah alumni nanti bakalan masuk ke perusahaan tambang nasional maupun multinasional seperti Freeport, Vale, KPC, Adaro dan beberapa perusahaan besar lainnya.
Sesi kuliah tamu ini juga dihadiri oleh Bapak Dr. Eng. Asri Jaya, Ketua Jurusan Mahasiswa Geologi FTUH dan pada sambutannya Beliau mengingatkan mahasiswa untuk lebih fokus pada kegiatan kemahasiswaan yang sifatnya pengembangan diri (personality) dan academic oriented. Beliau mengharapkan mahasiswa(i) yang menghadiri kuliah tamu ini bisa membuat CV yang menarik, berisi dan padat termasuk trik-trik wawancara yang tepat. Dengan adanya kegiatan kemahasiswan termasuk program Himpunan Mahasiswa geologi mahasiswa(i) bisa memasukkannya ke dalam CV sebagai klaim pengalaman organisasi dan pengalaman kerjanya. Magang dan kerja praktek juga diharapkan dilaksanakan dengan baik dan diklaim sebagai pengalaman berharga mahasiswa untuk masa depan mereka.
Pada kesempatan kali ini, saya kembali menitikberatkan pada pentingnya memahami perencanaan karir dari awal untuk bisa meraih cita-cita atau aspirasi karir mahasiswa dan fresh graduates. Langkah-langkah kunci perencanaan karir sebagai berikut:
1. Create your Career Goal or Career Planning. Career planning contains tasks that students should achieve before completion of their college studies. This is consisting: —What's your present status, —your career ambition, —Personal development plan.
2. Review your: —Attitudes/Behaviors (interpersonal skills related), —Abilities(Professional abilities, Aptitudes), —Experiences, —Education and professional training
3. Identify your values. —Values: Principles, standards, or qualities, that you consider desirable.
4. Consider costs, benefits, and lifestyle trade-offs.
5. Align yourself with tomorrow's employment trends.
6. Take advantage of networking.  Professional Networking: Making and using contacts with individuals, groups, and other firms to exchange career information.
7. Target preferred employers.  Preferred Employer: Employers that would suit you best.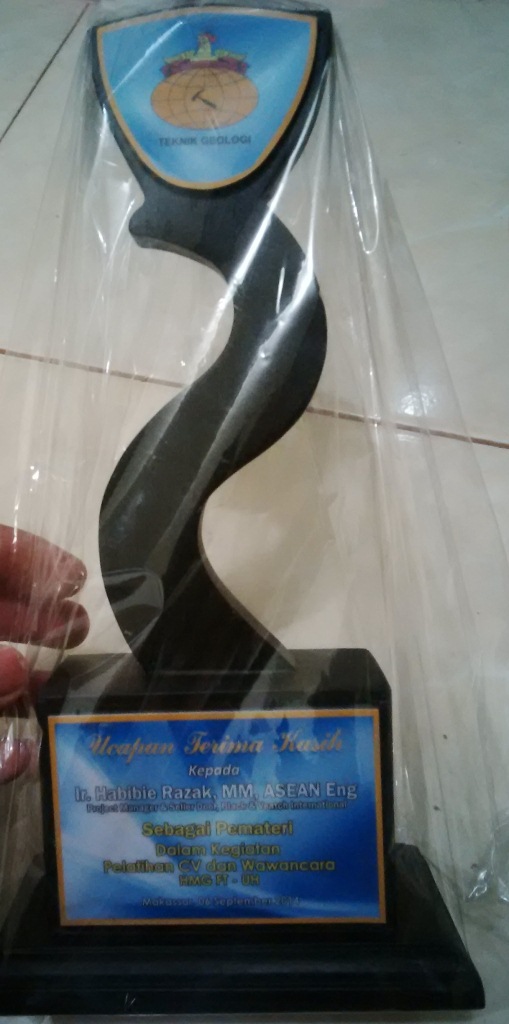 Pada slides selanjutnya, saya juga memaparkan tentang effective employment search strategies and application preparation antara lain:
a. Assemble a resume.  Resume or usually called CV consist of but not limited to: —Personal strength such as able to work both as individual and teamwork, specialized in foundation engineering, problem solver, etc., —Professional experiences, Organizational experiences, —Training, workshop &seminars attendance, —Oral presentation, —Languages capabilities, —Technical papers & articles, —References.
b. Identify job opportunities, such as: —Career Fairs, —Classified Advertisements, —Employment Agencies, —The Internet.
c. Write an effective cover letter.  Cover Letter: Letter of introduction sent to a prospective employer to get an interview.
d. Obtain strong reference letters.
e. Apply!
Presentase yang kemudian dilanjutkan dengan babakan tanya jawab berlangsung lebih dari 2.5 Jam dan pada sesi terakhir ditutup dengan penyerahan plakat oleh Ketua Himpunan Mahasiswa Geologi. Di HMG sebutan ketua Himpunan adalah Jenderal Geologi yang terpilih melalui mekanisme pemilihan langsung oleh Anggota Himpunan Mahasiswa Geologi.
Apabila ada pertanyaan atau komentar bisa menghubungi saya melalui email: habibie.razak@gmail.com
Sukses selalu buat semua.