The Australian Consulate-General  in collaboration with The Australia-Indonesia Centre have successfully organized and hosted the Eastern Indonesia Renewable Energy Seminar in Makassar which took place in Four Points Hotel on 26th of March 2018. The objective of the event is to support the Government to reach renewable target of 23% by 2025 including to promote the Government program to push more in providing more electricity to eastern part of Indonesia.
The event consist of one day seminar followed by 2 days technical visit. On 27 and 28 March, field studies will survey two renewable energy projects in Jeneponto Regency and Salemo Island (in the Makassar Straits), considering both Indonesia's large scale and remote, small scale renewable energy needs respectively.  These field studies will offer practical, hands-on insights into the delivery of energy projects in Eastern Indonesia. Delegates will have opportunities to ask questions of local project managers and community leaders and undertake a tour of each facility.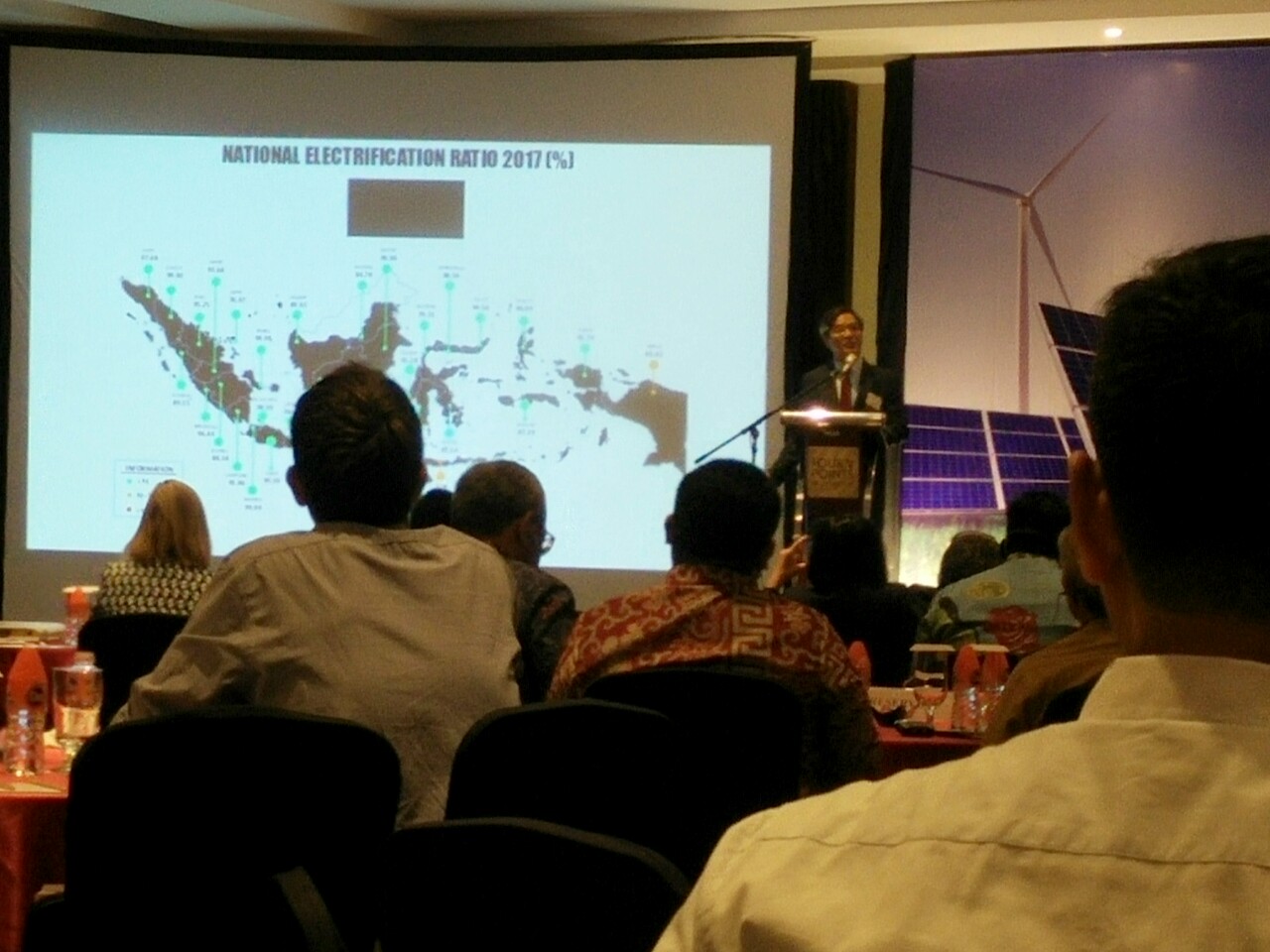 The seminar presented the first panel session presentations by panelists coming from several institutions. Richard Mathews representing Australian Consul-General in Makassar, Bob Saril, General Manager of PLN Disjatim, Harris Yahya, Director of Renewable Energy the Ministry of ESDM, Halim Kalla representing KADIN Indonesia and Bill Johnston, the Keynote Speaker, West Australian Minister for Mines and Petroleum, Commerce and Industrial Relations, Electoral Matters and Asian Engagement.
In his speech, Bob was focusing on the renewable energy program under RUPTL 2018 – 2027 which was launched by PLN recently. The possibility of direct appointment for this RE project, Biaya Pokok Penjualan (BPP) aspects, including the BOT scheme and the approval of PPA should be done by the Minister of ESDM. He continued, there are some strategies implemented by PLN according to new RUPTL consist of: the consideration of supply and demand, electrical system readiness to accept the additional power to the grid, big promising source of renewable energy such as hydro and geothermal, the electrification ratio in the eastern part need to be increased, smart grid development to accommodate intermittent power plant and the need to replace diesel power plants.
Harris Yahya in his speech mentioned that Indonesia has around 60,491 installed power generations to date and only 9,000 MW of them (15%) categorized as renewable energy. Government is pushing hard to build more RE power plants throughout Indonesia to fulfill the commitment of President Jokowi by having 23% energy consumption from RE by 2025. Indeed, required government policies and program to support the objectives. Halim Kalla of KADIN Indonesia, presented his data that at least there are still more than 1000 island in electricity crisis, 8.5 million families short of electricity, 42,000 villagers and 17,000 schools haven't yet enjoyed the electricity. Therefore the participation of private sectors should be encouraged more to fill the gap and indeed the Government Regulations have to be supportive for investment climate.
Bob Johnston in his speech was giving some renewable projects overview developed in Australia, solar, wind and hybrid mostly in western part of Australia. if these kind of concepts implemented in Indonesia especially for the eastern part of Indonesia where the people still live in remote mountainous or island communities. In many cases it may be less costly to use renewable off-grid technologies, than extend the national grid to isolated districts. As there is not yet an over-arching policy framework for off-grid supply, there is recognition among national and provincial governments of the advantages of renewable and micro-grid in servicing remote communities, particularly in eastern Indonesia.
The second panel session presenting some speakers such as Dr. Ariel Liebman, Monash Energy Materials and System Institute, Mrs. Tri Mumpuni representing People Centered Business and Economic Insititute (IBEKA), Dr. Bachtiar Nappu, Research Centre of Electricity and Energy in Hasanuddin University, and several others. The third session was the interactive game where the participants were encouraged to discuss among them regarding the energy policy landscape, community benefits, business models and partnership scheme in Indonesia.
Company and institutions who supported and joined the event such as Equis, Gold Wind, Griffith University, Infunde Development, Monash University, Murdoch University and SMEC, a Member of Surbana Jurong and several others. Thanks to Australian Consulate-General in Makassar for organizing and hosting the event.