Konferensi ASEAN Federation of Engineering Organizations atau disingkat CAFEO yang ke-36 diselenggarakan di Resorts World Sentosa Convention Centre, Singapore berlangsung selama tiga hari, Tanggal 12 – 14 November 2018. Konferensi ini dihadiri oleh para Insinyur se-Asia Tenggara di bawah naungan AFEO yang didirikan pada Tahun 1973 yang beranggotakan 10 organisasi persatuan dan institusi keinsinyuran se-ASEAN hingga saat ini. 10 Organisasi yang tergolong dalam federasi ini antara lain: The Institution of Engineers, Singapore (IES), The Institution of Engineers, Malaysia (IEM), The Institution of Engineers, Indonesia atau Persatuan Insinyur Indonesia (PII), The Engineering Institute of Thailand (EIT), The Philippine Technological Council (PTC), Board of Engineers, Cambodia (BEC), Lao Union of Science and Engineering Associations (LUSEA), Myanmar Engineering Society (MES), Pertubuhan Ukur Jurutera & Arkitek (PUJA) dan Vietnam Union of Science and Technology Associations (VUSTA).
Konferensi AFEO yang ke-36 ini dihadiri setidaknya 2000 insinyur se-ASEAN termasuk insinyur dari beberapa negara tetangga di kawasan Asia Tenggara antara lain Jepang, Australia dan Hong Kong. Konferensi ini terdiri dari technical working group sessions, opening ceremony and country report, penyerahan awards dan sertifikasi ASEAN Engineer, technical paper and poster presentation session dan exhibition. Technical working group session dibagi ke dalam beberapa subject antara lain: energy, transportation, smart city, engineering education, operation and maintenance and beberapa sesi lainnya.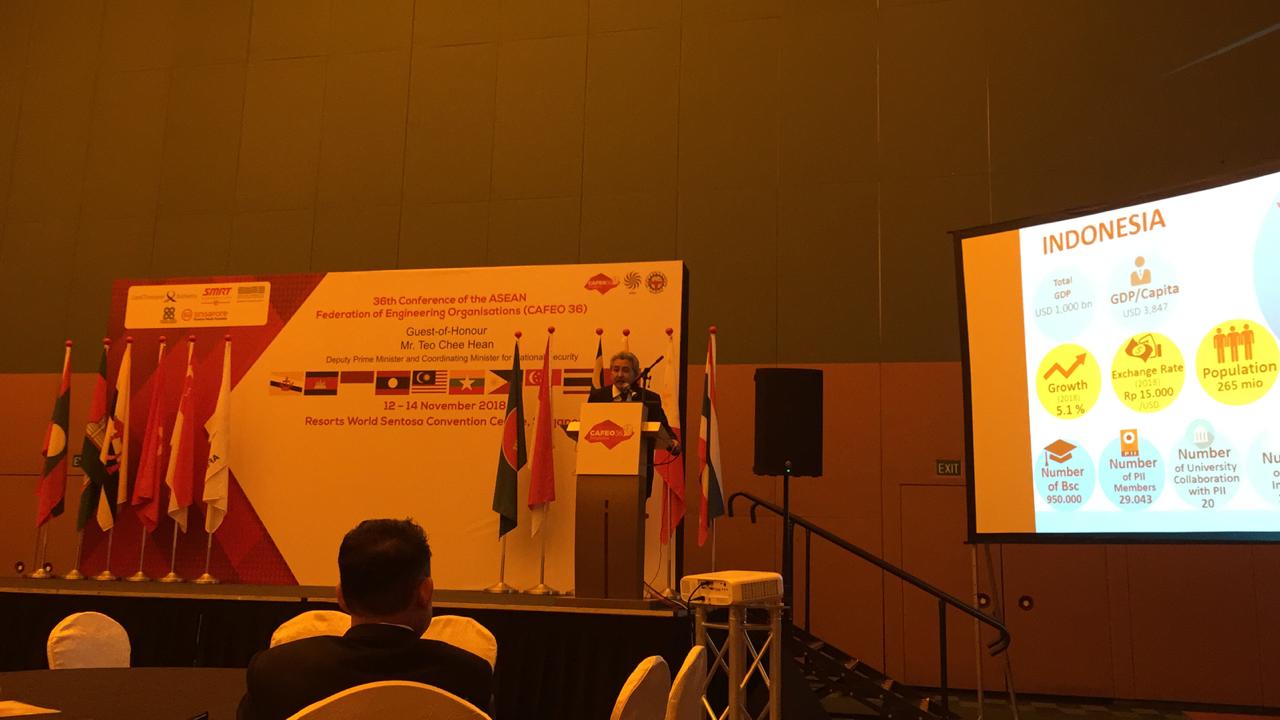 Sesi energy working group, delegasi Persatuan Insinyur Indonesia, Habibie Razak mempresentasekan program infrastruktur energi Indonesia termasuk apa yang telah dicapai oleh para Insinyur Indonesia selama setahun terakhir. Program 35 Ribu GW, penyelesaian proyek energi terbaharukan yang dicapai Tahun 2018 ini, usaha penyederhanaan perijinan oleh pemerintah untuk kemudahan investasi di sektor energi seperti pertambangan, pembangkit, minyak dan gas juga dipaparkan oleh Ir. Habibie.
Sesi country report di hari kedua menghadirkan langsung Ketua Umum PII Pusat Dr. Ir. Hermanto Dardak memaparkan di depan peserta CAFEO yang dihadiri ribuan orang ini. Dr. Hermanto dalam paparannya mempresentasekan profil umum PII termasuk visi, misi dan program, Indonesia key features seperti tingkat pertumbuhan ekonomi, tingkat inflasi, produk domestik bruto, PDB per kapita, potensi sumber daya alam Indonesia, total kapasitas pembangkit listrik terpasang, persentase renewable energy power generation terhadap total kapasitas pembangkit terpasang dan informasi lainnya yang diharapkan menjadi bahan referensi buat investor asing untuk berinvestasi di Indonesia. Dr Hermanto juga memaparkan update proyek-proyek infrastruktur logistik dan energi yang terselesaikan di Tahun 2018 ini antara lain pengoperasian  Pembangkit Listrik Tenaga Bayu (PLTB) 75 MW Sidrap dan penyelesaian pembangunan LRT Palembang.
Persatuan Insinyur Indonesia kembali membawa lebih dari 100 insinyur Indonesia penerima sertifikat ASEAN Engineer (AER) untuk dinobatkan secara simbolis menerima medali AER langsung dari Chairman AFEO dan Ketua Umum PII. Dari 100 penerima tadi, 20 orang di antaranya adalah dosen dan insinyur professional alumni Fakultas Teknologi Industri Universitas Muslim Indonesia dan Persatuan Insinyur Indonesia Cabang Makassar.
Setiap tahun PII Wilayah Sulawesi Selatan berhasil meluluskan para Insinyur yang berasal dari Sulawesi Selatan dan sekitarnya. Dr. Ir. Ruksamin, M.Si Bupati Konawe Utara juga menghadiri acara CAFEO ini dan juga mendapatkan gelar AER November 2018 ini. Dekan Fakultas Teknologi Industri UMI pada CAFEO ini mengucapkan rasa syukur yang mendalam atas pencapaian FTI UMI selama 3 tahun terakhir ini bukan hanya karena berhasil membawa 20 peraih AER tapi Beliau juga mendapatkan penghargaan tingkat ASEAN yakni AFEO Honorary Member Award. Ir. Zakir adalah penerima honorary member dari 9 penerima penghargaan lainnya tahun ini.
Hadir pada CAFEO ke-36 ini pengurus teras PII antara lain: Dr. Ir. Robert Purba Sianipar Sekjend PII, Dr. Ir. Heru Dewanto, MSc Wakil Ketua Umum PII, Ir. Rudianto Handojo Direktur Eksekutif PII Pusat, Ir. Made Dana Tangkas Ketua BK Teknik Industri PII, Ir. Djoko Winarno Wakil Ketua BK Elektro PII, Prof. Dr. Ir. Tresna Soemardi, Dr. Ir. Rusman Muhammad Ketua PII Cabang Makassar, Ir. Prastiwo Anggoro Sekretaris PII Cabang Batam, Ir. Aries Abbas, Ir. Naim Hamid dan Ir. Muammar Muhayyang PII tiga (3) dari 100 penerima AER kali ini, Ir. Andi Subhan Mustari M.Eng, Ir. Taufik Nur, MT dan Dr. Ir. Rustan Tarakka dari PII Cabang Makassar, dan beberapa pengurus dan senior PII lainnya.
The Conference of ASEAN Federation of Engineering Organizations yang ke-36 ini dihadiri oleh Prime Minister Office, Deputi Perdana Menteri Singapura Ms. Indranee Rajah sekaligus mendeliver pidatonya sebagai guest speaker pada sesi Transformation of Engineering Education. CAFEO ke-36 ini betul betul menjadi wadah untuk sharing pengetahuan dan pengalaman antara sesame Insinyur ASEAN juga sekaligus sebagai ajang untuk membangun jaringan atau network yang tidak menutup kemungkinan akan melahirkan kerjasama untuk pengembangan infrastruktur di kawasan Asia Tenggara.